Luca Marchettoni
Nickname:
Luma
Profile

Name: Luca Marchettoni Date of birth: 9th of October 1973
Job: Art director/Designer Nationality: Italian
E-mail: luca@w3d.it
Design prostitute, occult persuader, coin up visual communicator,
brain twister, undiscovered contemporary artist, nonsense talker, independent thinker, trouble maker, problem solver. Art director of directed art, mac monkey, new media mercenary, unconventional human resource, bullshit interpreter.
Can cook a superb "pasta alla Carbonara", play mandolino, sing
"O sole mio", swim underwater, read a newspaper, drink good wine,
make strange/funny faces.
Recensioni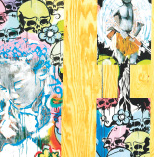 BRIDGE: the glue network
Accelerating the shift from "ME" to "WE". thegluenetwork.com is on a mission to provide a network, a venue, the technology, the credibility, the content and the choices to enable individuals, causes and corporations to plug in, connect, act and make a difference. Simply put, the mission is to connect people to make a difference.

OFFICINA PAGLIARO
Alberto Pagliaro è un grande illustratore ed un bravo guaglione. Online con un blog mooolto interessante, da non perdere.
News:
digital life, what's the time?
Very very interesting and inspiring interview with Oliviero Toscani at DLD Conference, an event about digital innovation, science and culture, bringing together thought leaders from Europe, the Middle-East, America and Asia.
Dove Onslaught(er)
Few months ago I was posting a very good commercial for Dove, well, it seems there is always an "other side of the coin". Thanks Greenpeace for pointing this out.
ASHES AND SNOW
Check this impressive exhibition, these pictures are just magic.
GTA4
Rockstargames has delivered his masterpiece, in stores in few days. Don't buy it or.. you will not see the sunlight for a long long time. I made my choice already.
ADV VS REALITY
Very interesting project showing some examples of product mystifications in the advertising world. You'd better close your eyes when you eat and just use your immagination everything will have a better taste.